You are here
DJane Mag España Entrevista a Marien Baker

Hoy tenemos el placer desde DJane Mag España porder traeros la primera de muchas entrevistas que tenemos preparadas para este año, ella es Marien Baker.
Carisma genuino, grandes habilidades de mezcla y sonidos fuertes para agitar la pista de baile, es la mejor manera de definir a esta deejay y productora, un auténtico talento emergente a escala internacional. Marien Baker es la última artista en explotar en la escena de la música electrónica a nivel mundial, esta artista ha tocado en algunos de los lugares más respetados del mundo, incluyendo Space y Pacha en Ibiza, por ejemplo en Ministry of Sound de Londres o el Stadium de Jakarta, por nombrar algunos.
Marien Baker exploró por primera vez los sonidos de la música house y dance cuando era adolescente en su ciudad natal de Valencia, España, al poco tiempo apareció en diversos programas de radio, lo que aumentó su exposición y popularidad aún más.
Después de 4 años intensivos de desarrollo en su carrera de deejay, principalmente fuera de España, alcanzó un nivel excelente en su gira, con una agenda muy ocupada de clubes que solicitaban sus actuaciones, también comienza sus primeras experiencias con producciones musicales firmadas en pequeños sellos independientes.
Las marcas de Powerhouse como Armani Exchange, Ferrari, Red Bull, Ducati, MAC Cosmetics, Schwarzkopf, entre otros, también la han invitado a participar en sus eventos de alto nivel en diferentes países. En 2012 empezó su gira internacional, después de ganar la primera posición en el EMI Music DJ "She Can DJ", y es aquí, cuando Marien Baker firma un acuerdo mundial en el sello discográfico Parlophone Records.
Su lanzamiento en 2013 de "Unbreakable" con Shaun Frank, encabezó las listas de iTunes de varios países y logró el Top 6 en las listas de clubes en el Reino Unido. En su país natal España, 'Unbreakable' se convirtió en un gran éxito, también fue elegido por iTunes como "single de la semana" y ha sido remezclado por nombres como Federico Scavo, Zoo Brazil o Re-zone. Esta entrada en el mercado español hizo que Marien Baker fuese nominada como "Mejor Artista Revelación 2013" en los Premios de la Música 40 Principales.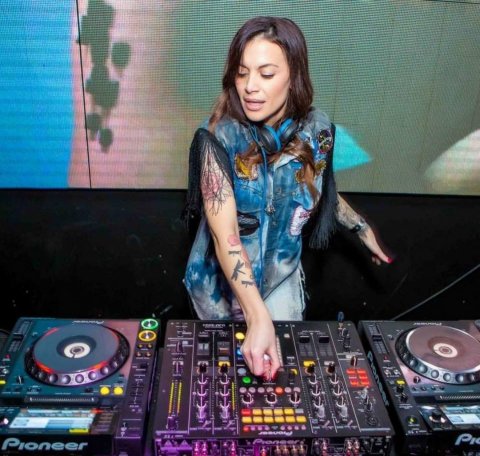 Realizó su primera gira el 22 de julio, con asociación, con la mayor red de radio española y latinoamericana 40 Principales, llegando a 18 ciudades en España y siendo vista por más de 150.000 entusiastas de la musica en todo el país.
Después del verano de 2013, estreno su single "Live Forever" entrando directamente en la lista de radio Top 40 de España, también en Argentina y otras renombradas radios musicales nacionales e internacionales, al poco tiempo también estrena un EP de remixes durante ese invierno y firma una colaboración con la marca Ron Legendario para producir una canción con Soraya que le genero una gira que comprendió 25 ciudades, junto a esto firma con Pacha Ibiza para convertirse en artista oficial de su Pacha Agencia y Pacha Ibiza World Tour.
Sus poderosas actuaciones han puesto a multitudes bailando en diferentes lugares (desde pequeños clubes para 500 personas hasta festivales por 30.000) tocando para gente de diferentes países y culturas y pistas de baile en clubes influyentes como Space Ibiza, clubes Pacha en todo el mundo, Stadium en Jakarta, Piramide en Viena, Guaba en Limassol, Ermitage en Kazan y Ministry Of Sound en Londres.
Durante los últimos cuatro años, Marien Baker ha actuado en Francia, Ucrania, Portugal, Indonesia, Italia, Reino Unido, Rusia, Bulgaria, Suiza, Egipto, Kosovo, Estados Unidos, Marruecos, Chipre, Turquía, Albania, Croacia, Brasil, Bélgica, Eslovenia, República Checa, Dubai, República Dominicana, Corea del Sur, Guatemala, y Miami, entre otros lugares. Durante el verano de 2014 estreno "You and I" con la artista Soraya, un sonido que celebra la vida, llegando a las principales radios y pistas de baile de España.
Hasta el día de hoy la carrera de esta artista no ha hecho más que crecer y demostrar que sigue en lo mas alto del panorama nacional e internacional, lo que demuestra "no sólo ser irrompible, sino imparable"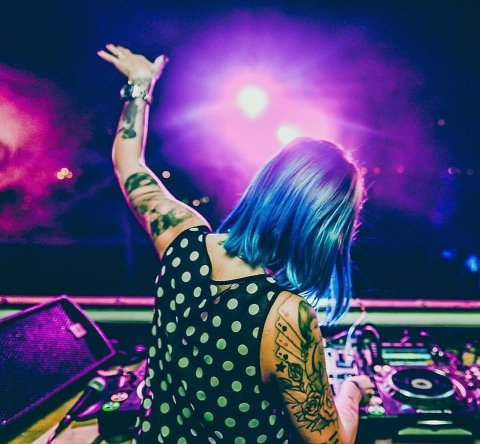 Cuéntanos acerca de tus inicios, por qué y con qué empezaste a mezclar música?
Mi afición por la Música me la transmitió mi padre que siempre ha sido un gran coleccionista de vinilos y cd's. De pequeña cantaba en un coro y tocaba la guitarra española, un día me vi haciendo mis primeros "mixes" con un par de cintas de cassette y las pletinas de mi padre, estuve muchos años bailando danza y yo misma hacía los "montajes musicales" pegando trocitos de varias canciones con las cintas para los festivales de danza, siempre estuve involucrada a las artes y al "mundo de la noche" tanto a nivel musical como coordinadora de una promotora de eventos de música electrónica, un día con los años me compré unos Pioneer CDJ 800 y aprendí a pinchar sola en casa, me dieron mi primera oportunidad en Valencia, mi ciudad y recuerdo que pinché con vinilos y estaba tan nerviosa que al terminar no recordaba ni uno de los discos que había puesto. Poco a poco la afición se convirtió en mi modo de vida, siempre estuve rodeada de gente que me apoyó y fui viendo cada vez más claramente lo que quería conseguir.  
Para mi la Música de Baile suponía la unión de dos artes que siempre me han gustado, la Danza y la Música. Puedo decir que siempre he estado rodeada de toda clase de estilos musicales, pero cuando llegó el momento de decidir hacia dónde dirigir mi profesión me decanté por la Música de Baile por la fuerza que me transmite, de pequeña siempre había soñado con ser bailarina profesional de danza contemporánea, pero con 14 años ya eres mayor para empezar la Carrera en el Conservatorio con lo que aparté ese pensamiento y me centré en otro estilo Musical.
Aunque llevas muchos años de carrera imaginamos que tienes un hueco especial para el 2012, ¿qué significó ganar el concurso de Los 40 "She Can DJ" para ti?
Como experiencia personal fue algo muy bonito y enriquecedor y algo que jamás olvidaré, y en el aspecto profesional esto supuso un antes y un después en mi carrera. Hasta este momento todos los esfuerzos que había hecho por mantenerme dedicándome solo a esta profesión provenían de mi implicación personal, contando con el apoyo de una gran discográfica y un grandísimo equipo logramos que mis objetivos llegaran con más rapidez.
Marcó un punto muy importante en mi carrera, existe una gran diferencia entre el apoyo de una gran discográfica con representación mundial y lo que a nivel profesional consigues con los medios de los que dispones, podríamos decir que no hay color, el apoyo de EMI fue esencial para lograr grandes objetivos y tuve un gran equipo.
Por otro lado pude conocer otra forma de trabajar la Música y la carrera de un Artista, normalmente a los Djs no nos llevan de promo, a radios y televisión como hacen con las bandas de Música y muchos menos estábamos acostumbrados a tener Djs dentro de las lista de importantes radios a nivel nacional como son 40 Principales, Europa Fm, Máxima Fm.
Escalar puestos en las listas de radios nacionales, entrar en el top 20 de la lista PROMUSICAE (récord que se consiguió con mi primer single ya en su primera semana en la lista), además de la primera mujer española en entrar en la UK Dance Chart y estar Nominada como Artista Revelación en los Premios 40 Principales también fue un subidón y como digo, otra forma muy diferente de vivir la Música muy bonita y muy especial.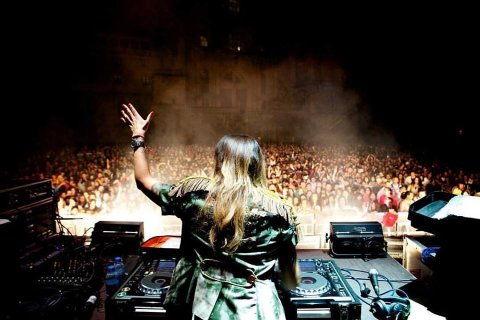 ¿Qué ha cambiado desde la Marien Baker del 2012 hasta ahora?
Todo ser humano tiene una evolución natural, podría decir que prácticamente siempre he estado en continuo cambio, para mí cambiar es evolucionar y aprender, pero he de decir que ahora mismo estoy en un momento de cambio de estilo musical y un cambio de imagen global para dar un giro a mi tono musical, ahora me siento más fiel a mí misma.
Todos los artistas viven una evolución musical y yo también tengo que tenerla, mi corazón me pide eso.
Dentro mi estilo musical siempre me he movido entre el House, Tech House, Deep House y Progressive House, nunca he abandonado las bases House por excelencia porque es el estilo con el que más identificada me siento, nunca he querido encasillarme en un solo estilo pero si que es cierto que cara al público debes hacerlo para lograr una líena coherente aunque es tu intimidad te gusten otros estilos musicales muy diferentes entre sí, de hecho es más el público el que te etiqueta que tú mismo.
Dicho esto, durante mis inicios, la electrónica que siempre se ha movido en mi entorno (soy valenciana y aquí la cultura musical siempre ha estado presente) ha sido de club, no era comercial, he aprendido e inspirado con lo que más cerca tenía de mi, mis propios amigos Djs que eran de todo, menos comerciales…jajaja…así que mis raíces más desconocidas para el gran público empiezan con un estilo mucho más puro y de club.
Tras las oportunidades que te presenta el camino profesional donde haces elecciones en base a ello, hace más de un año que me planteaba volver a lo que siempre me ha gustado y en ello estoy, tirándome a la piscina de una escena que no me conoce, que me etiqueta como "mainstream", donde prácticamente casi estoy empezando de cero y además sin cambiar mi nombre para complicar aún más las cosas…jajaja 
¿Es difícil entrar en el mundo de la música electrónica siendo Djane?
Creo que en general NO es difícil entrar en el mundo de la electrónica seas hombre y mujer, y mis opiniones sobre los artistas se basan en lo profesional sin distinguir entre hombres y mujeres. La verdad es que el mundo en general sigue haciendo estas distinciones con cual eso llega a todos los campos y ámbitos que nos rodean. Las mujeres hemos entrado más tarde en este mundillo y por eso en proporción somos muchas menos, pero cada vez aumentando más el número y ganando reconocimiento, finalmente tanto para ellos como para nosotras el trabajo, esfuerzo, constancia y tesón dan resultados.  
Si tengo que decir "algo" que nos diferencia, diría que nosotras aportamos frescura, sensibilidad, un toque diferente que puede hacer atractivo tener una mujer en cabina y creo que en ocasiones se nos mira más con "lupa", pero espero que llegue el día en el que eso no tenga importancia y la única protagonista sea la Música.
Dicho esto, en mi caso, no he notado ni que se me pusieran impedimentos ni facilidades, si bien es cierto que hacer el booking de una Dj femenina puede resultar más "llamativo" y abrir un poco el camino a las mujeres, lo que esta claro es que si no haces bien tu trabajo no avanzas, por muy cara bonita que puedas ser, al final lo que prima es tu trabajo y cómo lo haces.
Viendo que, incluyéndote a ti, sois 7 las españolas metidas en el top 150 de Djane Mag en 2016, ¿como ves el aumento de Djanes en España y sus constantes apariciones en los festivales importantes en nuestro país?
Mi opinión personal es que deberíamos estar en el mismo nivel que los hombres, pero eso aún no ocurre, todavía somos una minoría que cada vez crece más pero se nos sigue mirando como algo "diferente" en una cabina simplemente porque la que está poniendo los discos es una mujer, hay muchos Artistas masculinos que son Top Mundial y apenas hay mujeres en ese ranking, es trabajo de todas nosotras hacer que eso cambie, que nos igualemos a los hombres en todo y dejemos de ser algo "atractivo" solo por el simple hecho de ser una mujer.
De todos modos, si hablamos de números nosotras somos muchas menos, por eso abunda mucho el género masculino en las cabinas, por eso me gusta tanto ver que cada vez hay más nombres de mujer en line ups y ocupando primeros planos.
La profesión de Dj se ha hecho muy popular acercando este mundillo a un público mucho más grande que antes no prestaba atención a las cabinas, eso junto con las nuevas tecnologías que facilitan mucho más mezclar dos canciones ha hecho que aumente tanto el número de nuevos Djs y por tanto la curiosidad de las mujeres por esta profesión.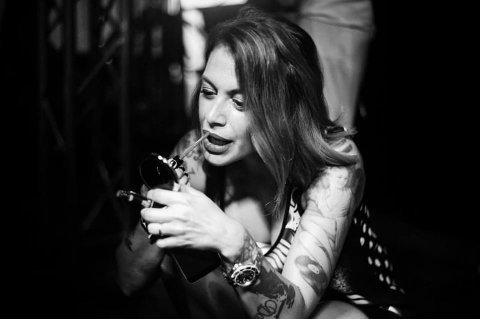 ¿Cual es la fiesta en donde guardas el mejor recuerdo?
Si tuviera que elegir un lugar en España, mis sets en Space Ibiza durante dos temporadas como una de las Djs Residentes de Café Olé y Pacha Ibiza han sido muy especiales, pero las mejores sesiones las he vivido sin lugar a dudas en clubs fuera de mi país, mis sesiones más locas han sido en Guaba Beach (Chipre) un beach club que ostenta el número 19 en el top mundial con una programación excelente y un público inimaginable, allí realmente hay muchas ganas de disfrutar, sentir y vivir la música, la entrega del público es increíble y hace que no quieras irte de la cabina nunca, de lo mejor que he vivido en mi carrera ha sido sin duda en Guaba Beach.
El verano pasado haciendo temporada en Croacia, todo un mundo donde se está apostando fuertemente por la electrónica con clubs y beach clubs increíbles con programación de muy alto nivel, de hecho varios clubs que se encuentran en una zona de apenas unos cuantos kilómetros cuadrados ostentan los primeros puestos de Top Mundial y casi cada día (como en Ibiza) puedes ir a escuchar a un Dj Top y de hecho es ahí mismo donde se celebra el Sonus Festival de Techno con un cartel muy Top.
Otros clubs que me han marcado por haber vivido una muy buena party han sido Stadium (Jakarta), Ministry of Sound (Londres), Cirkus Club (Eslovenia), Pirámide (Viena), Club Fix (Corea del Sur), 033 Club (Kazajistán).
Tu último trabajo salió hace 2 semanas, hablamos de tu EP junto a Ian Ludvig, ¿como describirías los 2 temas que están incluidos?
Como sabéis no es mi primera experiencia en producción ya que tengo varios releases en el mercado y otros tantos que he terminado en estos últimos años que seguramente nunca verán la luz, a partir de este cambio de dirección en mi carrera me planteo empezar de cero con el estilo que ahora mismo siento más acorde a mi.
Como ya os he comentado, a diferencia de otros muchos artistas que hacen un cambio tan fuerte en sus carreras, yo continúo con mi nombre, creo que un nuevo proyecto no esta reñido con esta toma de decisión y que si más bien hace más largo el camino a ganarme el respeto y reconocimiento en esta nueva escena, no es imposible, y la ilusión que tengo y las ganas creo que pueden con todo.
Hit Me es mi EP debut en esta incursión nueva en mi carrera que no habría sido posible sin la ayuda de mi querido amigo Ian, él al igual que yo, viene del mainstream aunque él si optó por cambiarse de nombre, y sabe lo que supone sumergirte y prácticamente volver a empezar, ha sido mi padrino para mostrar mi nuevo sonido como otra Marien y gracias a su ayuda no puedo estar más contenta. Su experiencia en este nuevo mundo y su rapidez en el estudio hizo que pudiéramos completar dos EP y un tercer track que saldrán a la venta este mismo año.
Por el momento el apoyo de Hit Me esta siendo muy bueno llegando en Beatport al puesto 59 del chart Top 100 de Lanzamientos en cuatro días. El EP lo conforman dos temas Tech House, con sonidos muy frescos, una base muy Groove que ya de por sí no necesita de más elementos a la hora de pincharla, ni loops, ni sonar durante minutos junto a otro tema que le complete, conseguimos de esta forma que el tema ya de por sí tenga la suficiente fuerza para provocar la reacción de la pista por sí solo.
Estad atentos porque en próximos meses estará a la venta nuestro próximo EP Good Times y un tema vocal mucho más serio junto con la cantante Joela Francis.
Nombra a 3 Djanes, sean nacionales o no, las cuales nos recomendarías escuchar
Jajajaja…menudo compromiso!! A ver, voy a mojarme un poco, aunque he de decir que entre nosotros a veces es complicado escucharnos porque si no coincidimos en una cabina no es fácil. Para empezar quiero dar mi reconocimiento y felicitación personal a todas las Djanes con las que comparto posición en esta lista y que son Artistas muy recomendables para escuchar. 
Y mis nombres son, Anna Tur, Miss Nine, Nina Kravitz, ANNA, Tini Gessler, Smokin Jo tienen mucho estilo, gusto musical, vitalidad, buen rollo y cultura y te he dicho más de tres..jajajja
Muchas gracias por tu tiempo, desde DJane Mag España te deseamos lo mejor, un fuerte abrazo¡¡¡