You are here
The exclusive interview with CEO of INPUT High Fidelity Dance Club is OUT NOW!
INPUT is an ode to sound, electronic culture, experimentation, innovation, enjoyment, club culture, spontaneity, it`s a meeting point and of course is a gateway to a whole new level

of sound experiences in Barcelona. 

It`s a new place,  it`s a space for those that love house, dance and techno music.
We had chance to talk with CEO and MANAGER - Edu Cl

àra

 and you should see it!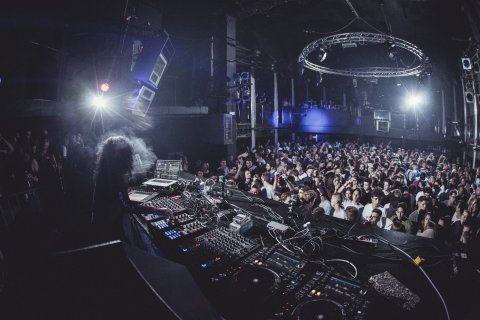 DJANEMAG: Can you tell about yourself ? How did you start a work in the club? How long do you personally work there? What are your responsibilities ? 
Edu Clarà: Honestly,  I don´t like so much to talk about myself.  I am a demanding, perfectionist and organized guy, with a global perspective and challenging for myself and the others. Sometimes I´m like a pain in the ass. But I´m also friendly and helpful. ;) Oh no! It looks like a Tinder profile presentation. :)
I left an important company to start this new project around two years ago but as everybody knows the beginnings were never easy. I remember when we started everybody said me: "what are you doing there? That venue doesn´t work" or " This club is really unlucky. I don´t believe it will work."… Nevertheless, all the team and I didn´t heeding those messages. I was pretty sure that if we work with long-term goals in mind without heeding those "inputs" it will work. if you believe in yourself working hard with all your effort, passion and dedication you get results.
About the third question I work almost 24/7. Input at this moment is my life.Honestly, I don´t have any defined responsibilities. I´m just doing loads of things. I´m always willing to do any requirement from the club. From club management, bookings, numbers... to communication and press. Ah! I´m also DJing too.
DJANEMAG: Can you tell about club's name? When was club opened?  What is the politic and price of club?
Edu Clarà: Well, we decided the name cause INPUT, in general therms, means something that is put in. Our aim was creating a gateway to a creative space, where art, music and performances mix together in a spontaneous and natural way, offering a wide variety of transformation possibilities in both visual and sound setups to achieve the best interaction and feelings with the crowd. INPUT represents the entrance to a universe of sound designed very accurately where good taste and quality rules over trends.
The club is open since long time ago. It´s a legendary club in Barcelona but as INPUT it started in April 2016. INPUT proposes access to a new angle of experimentation that connects the user with the sound, the visuals, the space, the crowd… We don't take into account social inequities or fashions but only music and sound as its key pillars. It´s like a meeting point and of course is a gateway to a whole new level of sound experiences. Ticket prices depend on the event and artists that we bring on each event. The prices range between 10 and 25€.
DJANEMAG:  Does your club throw theme parties? Which one?
Edu Clarà: We´ve got a couple of different concepts and parties that we use to produce ourselves or alongside partners like: INPUT pres..., Local Heroes, New Kids On The Block, Swing, HEX, Locked, Loud-Contact, We live!… Each one has its own concept and contents. 
DJANEMAG:  Do you follow our top100djanes rating and what advices would you give us? 
Edu Clarà: I´m so sorry but I don´t follow it. But I´ve been checking and investigating a little. I saw you´ve got a couple of steps or pointers to win points. I think most of them are good but maybe some of them are focused on the "social" ( Instagram, twitter, facebook… ) encouraging to DJanes to promote their own fanpages. Of course social networking are the most extensive communication tool ever but for me the music, DJ skills, production or talent are even more important than the rest of the things. So I would give more attention to the artistic side. 
DJANEMAG: Which Djanes were played in club in 2017? On your mind, who was the best?
Edu Clarà: Let me think… Nastia, tINI, Nicole Moudaber, Magda, Peggy Gou, Charlotte de Witte, Louisahh, Anja Schneider, Shinedoe… among others. The best? It´s difficult to name only one.  All of them are the best for me. Each one has her own style and different ways to connect with the crowd. This is what makes them unique and special.
DJANEMAG:  What are the criteria of choosing the DJane for a special show? 
Edu Clarà: It´s not easy but I love it!  It´s a selection process where you have to bear in mind loads of issues like: music, DJing skills,  target audience, hype, artist availability, artist fees,  budget, available dates, club capacity, the time has elapsed since the artist came to play to the city... Whether we like or not, this is a business, and we must consider all this key points; not only your preferences.
DJANEMAG: Which DJane do you think is top in nowadays electronic music community?
Edu Clarà: Well it´s really difficult to name only one. At this moment I´ve got in mind:  The Black Madonna, Avalon Emerson, Amelie Lens, tINI, Nastia, Nina Kraviz, Charlotte De Witte, Helena Hauff,  Francesca Lombardo, Ellen Alien, Nicole Moudaber, Maya Jane Coles, Peggy Gou, Anna, Paula Temple, Rebekah, Heidi or Molly to name a few (in no particular order).
DJANEMAG: What was the most curious moment in your work in the club you remember for the last year? Share it with our readers? 
Edu Clarà: I remember the INPUT opening party when the headliner canceled the gig because he missed the flight. Imagine! It was our debut.I can´t believe it!  What a way to start the project! haha :) But well, these things happen and you have to overcome.
I remember also the first day of "INPUT Off Week 2017". We still didn´t finish all the DJ booth works and repairs and I decided to lend a hand to the workers putting cement , connecting cables and removing rubble while some artists who had to play that day where waiting for the Soundcheck. They didn´t understand absolutely nothing. I saw on their eyes...  Imagine! The manager is that unkempt and dirty guy who is removing the rubbish, the club is full of rubble and we are waiting here for the soundcheck. Luckily, we finished on time all the works and all the events held at INPUT during Off Week were successful.
I remember also a funny moment when tINI came to play to the club. She was singing and dancing flamenco in the backstage with us.
Or a couple of weeks ago when Andrés Campo came to play at INPUT. After the closing  track the partygoers and fans didn´t want to leave the club and they start to sing supporter songs hanging banners. They looked like hooligans after winning the Final Cup. 
We´ve had loads of good and bad moments that come to my mind.
DJANEMAG:  Who were the most popular guests in your club? ( like as stars, sportsmen, actors )
Edu Clarà: We are an electronic and underground club so VIPs like actors, rockstars or sportsmen don´t use to visit us. But of course they are welcome like everyone who wants to come and join us for a dance, drink, smile…Our home is also theirs.
DJANEMAG:  Can you tell us about plan for future? Maybe you create new projects or special party?
Edu Clarà: We are running a new venue/place. A hot spot it will be open within the following days. It´s a cozy and warm restaurant / club.  It´s like a meeting point for all those music and food lovers.
DJANEMAG:  What is the secret of your club? How to be success and popularity club as you are? 
Edu Clarà: Secret? There are no secrets… Just work, work and work. In my opinion, we have a key element: our human resources. All the people involved in this project are putting so much effort and energy, and this is valuable. That's the reason why making people feel like at home is so important. If you manage to make people feel proud to be part of the project, they will make the most of themselves and commit themselves more than ever. INPUT is like a family, everyone is welcome.
First of all, DJANEMAG team want to thank Edu Clarà! Thanks for your opennes and humor once again :)
DJANEMAG  strongly recommend to visit this undegraund place - INPUT!
https://www.facebook.com/inputhighfidelitydanceclub/?fref=ts
https://twitter.com/inputdanceclub
https://www.instagram.com/inputdanceclub/