You are here
Exclusive Interview with Raquel D.K.: Music always comes with me
Raquel De Damas Khaldi, better known as DJ Raquel D.K. is an artist, who is revolutionizing the dance floors, a DJ, who is absolulety in love with music!
"Music ... always comes with me, since I was born, with my first heartbeats ... always with me, at work, at home, at every step I take ... it enters my ears, goes through my veins, goes into my mind and it touches my heart, it vibrates in my body, it makes me travel in time, smile, dance, remember, love, cry ... simply pure passion" - she said.
Raquel D.K. is chameleon DJ, constantly surprising, adapting to any type of audience and scene, in her find elegance and a lot of positive energy, everyone, who listens to ends up intoxicated and hypnotized by the sound of her sets. 
Want to know more about Raquel D.K.? Read out interview below. All exclusive with DJANEMAG.COM!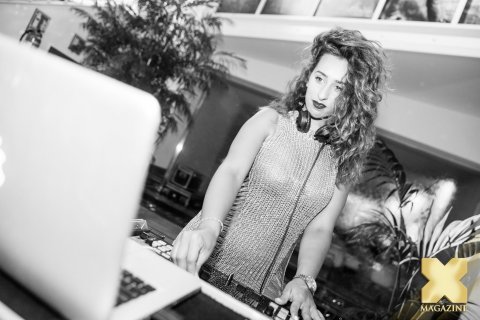 DJANEMAG: Introduce yourself (give a couple of interesting facts) 
RAQUEL D.K.: Dear Djanemag and readers! I am DJ Raquel D.K. In my work I try to make people to forget about everything and have fun with my sets, I hope that you join the party with me!
DJANEMAG: Let's start with where are you from? Tell us something about your country, your native city, how did your childhood go? Can you remember the moment when you decided to go for it and be a DJ? 
RAQUEL D.K.: I'm from Spain with Egyptian roots. I was born in the city of Granada & grown up in Marbella. I am proud to live in this beautiful city, for it's climate, the diversity of cultures, the party atmosphere and more important to be, where my career began as a DJ; to be able to develop your work in your native city is luxury.
All started thanks to my partner, who one Christmas day gave me a small controller as a present ... that was practically like a toy ... I was searching for new music always, he thought that I could dedicate myself to this, in fact, before I knew him, as a child I had tried different music programs, like virtual DJ, Fruity loops ... in those days I was trying to mix with the computer and sometimes there was luck and something sounded good ... but not always ...
I never gave up and after many hours of practice, fights and hard work, I started DJing with him at privates parties, it was almost like when the little bird left the nest when I was ready to fly ....7 years have passed and here I am, doing what I love most, even today I keep learning  because I always discover new things in this world that It captivates me. It's incredible, I started with a toy and Now I can play with everything that I have in front of me, even with vinyl, it's very fun, I love it.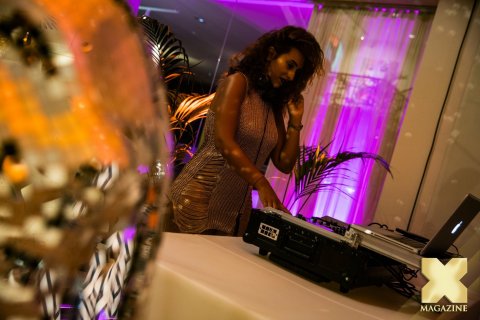 DJANEMAG: Advantages and disadvantages in being a female DJ?
RAQUEL D.K.: I personally believe that it has no advantage or disadvantage, we are all in the same conditions to do this job, women or men, but for  people, ee supposedly have the advantage of being women and many think that We are there just for being a woman ... but I think We are stronger, because even though they devalue our work and many only see a physical, We can show that our work also makes a difference.
DJANEMAG: Have you ever thought about playing in s dou with DJ or DJane?
RAQUEL D.K.: Yes , of course
DJANEMAG: Men rule in DJs world. Do you agree with this statement?? 
RAQUEL D.K.: No, they would not have been born without a woman ...
DJANEMAG: Tell some funny story that happened to you during the gig! 
RAQUEL D.K.:  I was DJing for Loreal brand, when one of the guests screamed: "put down the volume!, I'm on the phone !"
She went crazy and put down the volume, I was surprised by her abilities as a DJ, I think she told her husband that she was at home and did not want her husband to find out, finally the security of the venue took her out.
DJANEMAG: Where do you get your music from, preparing a gig?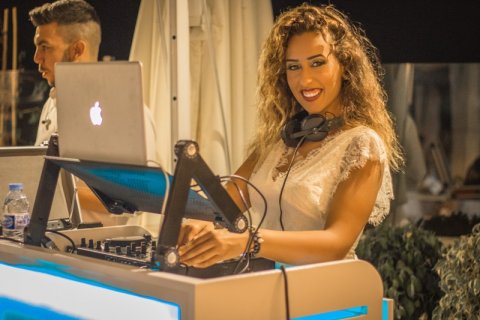 RAQUEL D.K.: DJ promos and differents online music stores.
DJANEMAG: What do you think people do while listeting to your music at home? 
RAQUEL D.K.: Making love, dancing, cleaning twerking in front of the mirror, training, singing in the shower, having a party ... going to the bathroom maybe? 
DJANEMAG: What is your favorite music style? How do you describe your own style? 
RAQUEL D.K.: I love all kinds of music, sometimes I listen to other styles and discover things that surprise me, but if I had to describe my style, I would say that is a mix of tribal, Latin, arabic rhythms with an urban touch stand out.
DJANEMAG: Share some exclusive news with our readers!
RAQUEL D.K.: I am working hard in the studio with a new music project. Soon you will have more news!
DJANEMAG: Any final words.
RAQUEL D.K.: Thanks Djanemag for your work and for supporting the female DJs, you do a great job.
Listen to music by Raquel D.K. at her mixcloud and don't forget to VOTE for her at top100djanes.com!