You are here
For this edition in 2017, the organizers of Medusa Festival have prepared the most savage edition, considering that the theme of the festival is Jungle Carnival.
A few days ago, Medusa announced that the tickets of the promotional phase had been sold and for those who do not have a ticket yet, a new phase of tickets was opened.
In its first edition, Medusa Festival had 16000 assistants and according to the organizers of the festival, they have sold about 150000 tickets for this edition. Moreover, all the tickets for the camping area were sold a month ago.
The organization has spent more than one million of euros in the making of the main stage of this edition of 2017. This mainstage looks incredible in the photos and it will be one of the biggest stages ever created for a festival in Spain.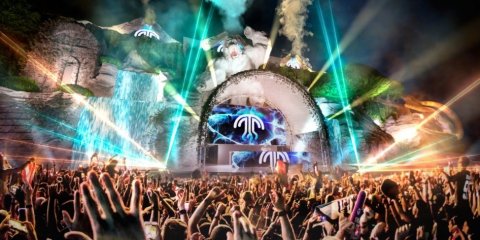 It's the stage more sophisticated never raised in Spain according to the organization, 112 meters wide and 30 meters high equipped with 20 Laser "Kvant" cannons, 20 outputs of flames and 32 outputs of CO2, as well as abundant pyrotechnics. All the stage is designed and created by local artist Fede Alonso.
This year we will have 4 physical stages that will give life to  the 12 worlds, the main stage "GORRILAZ KINGDOM", "SHARK ATTACK", "RESONANCE" and "RAINBOW TENT".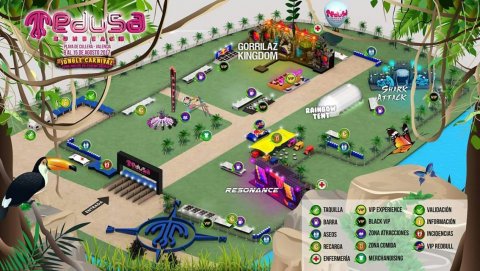 Focusing in the Djanes, in the line-up we find the Djane Juicy M that will act on the main stage Gorrilaz Kingdom and the lady of Hardcore, Miss K8, that will act on the hard stage with dj Anime.
Marta Snitkina, better known as Juicy M, is a Ukrainian electro and progressive house DJ and producer from Kiev.  She is best known for her videos on YouTube mixing with four CDJ players without using headphones.  In 2015, she became the first female artist signed to Armada Music's Chased Management.
Nowadays, Miss K8 is embraced by thousands of fans with performances on stages like Masters of Hardcore, Dominator, Syndicate, Defqon.1 and many more. In July 2014 Miss K8 presented her anthem for Dominator Festival during a mesmerizing show and 40.000 witnesses. Miss K8 proved that persistence, devotion, power and purity lead the way to international hardcore stardom and her #1 position as female artist.
The djanes will share line-up with the most important dj's of the electronic music scene, such as DIMITRI VEGAS & LIKE MIKE, HARDWELL, PAUL KALKBRENNER, ALESSO and many more artists of international stature.
In the year 2018, Medusa have confirmed its international expansion, taking Medusa to Mexico without forgetting the fifth edition in Spain
Without a doubt, we believe that it is a festival that you will enjoy the attendees both the climate and the location next to the beach. This year we will be there to tell you how live this experience and above all, giving support and counting as the Djanes live it.