You are here
#1 iTunes Music Video (Latino) for Miss Tara
#1 iTunes Music Video (Latino) for Miss Tara #5 All Genre.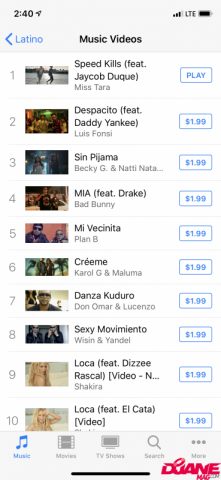 Did you see the video? Available today on djanemag.com! 
Miss Tara - Speed Kills - Feat. Jaycob Duque
The official song of the movie 'Speed Kills'
The song is a Latin banger featuring Miss Tara's catchy, summertime beats over Colombian singer, Jaycob Duque, mellifluous vocals.
Speed Kills, is loosely based on a true story and about a speedboat racing champion/multimillionaire, Ben Aronow, played by John Travolta, who leads a double life that lands him in trouble with the law, mob, and drug lords.
The movie is produced by Hannibal Pictures' producer's Richard Rionda Del Castro, Luillo Luiz and Oscar Generale.
Soundtrack is composed by Geronimo Mercado and produced by Laurent Eyquem.
The Music Video is produced by Jean Marc Lopez and Tara Mobayen.
The stars are John Travolta, Kathryn Winnick, Kellan Lutz, Jordi Molla, James Remar, Jennifer Esposito, Tom Sizemore, Moran Atias.