You are here
READ NOW! Exclusive interview with DJ, Producer and singer Monica X
Monica X started DJing at the early age of 16. Her style at that time was influenced by her previous musical studies, and over the next 22 years her style has been envolving thanks to performing with Tiësto, Sven Vath,  Miss Kittin among others. 
A bright, unordinary personality, who was born to glitter on a musical Olympus - that's how we can name Monica X. Want to know more? Read our interview below! All exclusive with djanemag.com!
DJANEMAG: Who is Monica X? A DJ? Producer? Singer? Which of these activities do you like most and what else would you like to do in future? 
Monica X: My musical career started being a DJ when I was only 16 years old, then 15 years ago I evolved to the facet of studio production and 4 years ago to vocalist, three in one. But I have learned over the years that only that is not enough and that if you do not keep learning more things in the end you fall behind.
In addition to the aforementioned, I am a Graphic Designer that also design my own promotion campaigns on the social networks. I am also a Community Manager. So, I manage all my social networks and I personally respond to the fans messages of the great "X Family" from many different countries. Also, I learned to be my own Manager and thus not have to depend on anyone; in short, nobody knows better than me about selling
myself.
Following this, I created my own management agency called "Work 4 Danz" (work to dance), through which, for several years, I collaborated with my inseparable friend Candi Valle in the national tour of the party "Sex in the House", acting with DJs, vocalists and musicians throughout Spain. I also dedicate time to work my image care. I started as a model with 18 years and I regularly do photo sessions to project an image of seriousness and professionalism. I also handle the management of the press department and interviews in general: on radio, television and graphics or online media.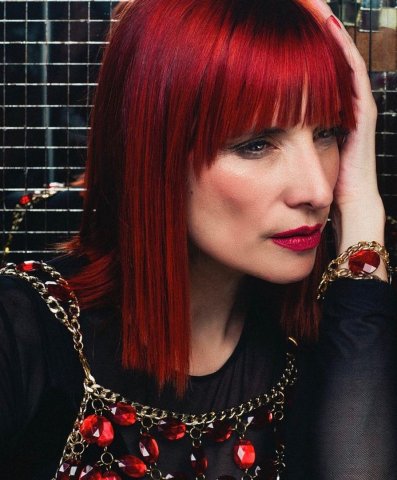 As you can see, I am a restless and versatile girl, that never tires of learning and evolve with fashion and people, giving the best of herself -  Music.
The experiences around the world in the DJ Booths is what makes me happiest; being in contact with the public is what gives me energy to continue; living that experiences are unforgettable: you get hooked on the adrenaline that you generate in a session. In the future I want to continue producing, DJing and singing, as well as being able to add guitar or piano to my shows.
DJANEMAG: What profession did you dream about, when you were a little girl? Was it related to music and to what are you doing now? 
Monica X: As a child I was not sure I wanted to be older, I just liked music. Being a doctor, lawyer or professor did not fit into my plans. I think I was interested in the musical trade because having only two brothers (and twins!), I played with things for boys instead of dolls. At the age of 9 I started studying music theory (solfa) and my dream was to play the piano and in the future from a group. I was passionate about U2 and Depeche Mode, but over the years I became more interested in DJing and producing my own music in a studio. At that time, there were discotheques that for the afternoon sessions you could access being 14 years old, where we could dance and start flirting. At age 16 it was my first contact with the world of music more seriously, just the age at which they let you enter on night discotheques legally, although I entered 9 years old a New Year's Eve in the discotheque NOD of Ribarroja (Valencia) because my father worked in the computing department of the company. I currently spend a large part of my life working in the DJ Booths.
As some of you already know, my beginnings were in my native Valencia, specifically where they gave me my first opportunity in the legendary Spook Factory of Pinedo that later became Sound Factory. The beginnings are always hard and whoever says otherwise is lying. So that you realize the passion I had for my work that I still have, the first year I debuted, did not charge a dime for my sessions, even though I had made a large investment in the hardware to practice at home and to be well stocked with the latest vinyl releases. My only income came from my job as a waitress. For me, all this was like a hobby, so I did not really care much about DJing for free, although here I have to clarify that the owners of those discotheques took advantage of the economically weak. During the second year of my career, my fee was 50$ per session; you can imagine that with that "big pay" I did not even have to keep my expensive caprice of having in conditions a suitcase of vinyls; I actually made more money by putting drinks. But even this did not stop me in my efforts. The third year was already well known and respected within my community and my salary increased fivefold, I even started traveling through Spain, always playing alone and exclusively with male colleagues. In the fourth year I met my partner for 18 years, Nando Dixkontrol, in a marathon that was held in the legendary discotheque NOD of Ribarroja (Valencia), and then I went to live in Barcelona, ​​where people believed that Nando had taught me how to play, something totally wrong because he fell in love with me, among other things, because I was doing his same job and so he could talk to me about everything related to music and the technical issues of our profession without fear of being misunderstood.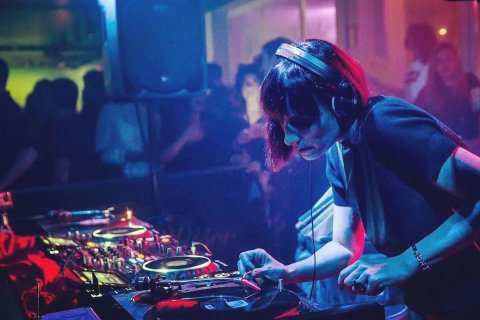 Nowadays I plan to continue producing the video clips of the 6 remaining songs from my last album and publish it. In addition, the online store is already underway so that my fans around the world can purchase items from Monica X such as: t-shirts, sweatshirts and mobile phone cases at www.djmonicax.com; more models will follow later. Soon I will start working on the studio in a new track focused mainly on Future House, in collaboration with my friend Jaime, whose artistic name is Iostar.
DJANEMAG: Do you remember your first gig (first DJ experience in club), describe your feelings, the atmosphere...! What did you play? How did the audience react?
Monica X: My beginnings are closely related to a DJ's contest that was held in the year "91 at "Spook Factory" Pinedo (Valencia). I was in 3rd place!. It was not bad for a girl who had recently obtained a second-hand Technics! At that time there was no other girl taking part in this contest. Not even DJing in Valencia! My only reference was the male DJs. To observe the DJs of Spook Factory occupied a large part of my time during the Friday night sessions, while I worked as a waitress in a session of more than 12 hours without a break. But who taught me the basic technique to start practicing at home was Cristian San Bernardino, a Valencian DJ who worked at the discotheque "Barraca" Sueca (Valencia) at that time. I met Cristian in the Marbella pub, where I worked as a waitress, and we also studied together at the Misericordia Institute in Valencia. When you are happy doing something, in this case DJing, and you can get to live on it, that is priceless, it is the best thing that can happen to your life. You also make people have fun and make them happy too, so you get double reward. From the beginning, people have always responded very well to my sessions, in fact I am lucky that pleasing the public and the owners of the discotheque where I played, I returned several times to the same place. I like that people participate, raise their arms at peak moments of the session, they jump, sing the songs with me, clap their hands and feel they are an important part of the show, so that everybody can take an unforgettable memory of my session and come back to see me in the future. In my beginnings, the Spanish groups played music from: Interfront, Chimo Bayo, Paco Pil, Spanic. And foreigners like: Front 242, Then Jerico, Bad Boys Blue. It was the end of the Guitars and the
beginning of Electronics, EBM (Electronic Body Music).
DJANEMAG: You played in different styles of music, which style do you like most of all at the moment?  How can you describe your own style?
Monica X: I am currently playing 3 very different musical styles: EDM, House and Remember (Retro).
I started DJing Dance, Makina and Hardcore, then I went to Techno and Trance and now I can do sessions of House, Deep House, Tech House, Progressive House, Future House, Tropical House, Electro House, EDM and Retro or Remember. I love all music styles. Remember sessions remind me of friends, situations, places and discotheques where I danced and played when I was younger. Music transports you to times of the past and makes you relive very happy memories that otherwise would be impossible. My own style in any session is that the music has highs and is not flat, so that people enjoy the most of jumping and vibrating with each beat. And I try to encourage the audience from time to time with the mic, but without being heavy.
DJANEMAG: What kind of music do you listen to in everyday life and share one track that consistently goes off every time? 
Monica X: The music that I listen to usually has to do with what I'm currently playing. Although I have always listened and liked artists like: Michael Jackson, Celine Dion, Madonna, Whitney Houston, Aerosmith, U2, Depeche Mode, Europe, etc ... From some of them, come out occasionally, House or
EDM versions that I like to play in my sessions because they work very well anywhere in the world. A song that cannot be missed and that I can be listening to a thousand times without getting tired is: Celine Dion "My Heart Will Go On".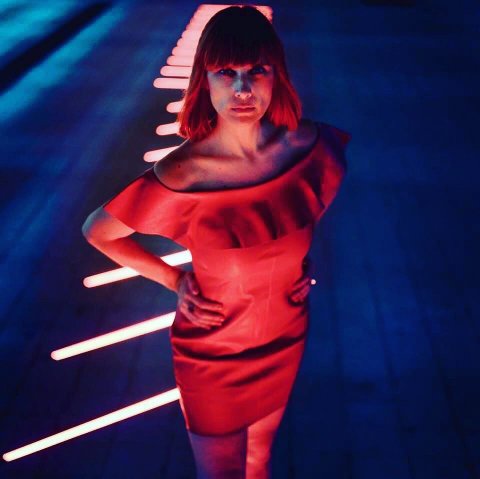 If we talk about my productions, the songs "My Name is Monica X" and "Top DJs"; are the hardest and that I like more on the album and those that are focused on being quickly catchy in Festivals. They are tracks that when you listen the beat makes you want to jump without stopping, which is what
people want to do when they go dancing. The song that most identifies me is "I'm The Deejay",  of which a new video clip was published in 2017 on YouTube, recorded in Barcelona next to Torre Agbar, near where I lived years ago. Barcelona is the city where I have had the pleasure of living for 18 years with Nando Dixkontrol. I also took advantage of my performance in "Remember Paradise Festival" to include scenes DJing at the discotheque "Eleven" Vallgorgina (Barcelona).
DJANEMAG: Something very big is waiting for us, isn't it? Your new album is out very soon!!! Tell us more about this album, what is it special about, is it possible to compare the release of the album with the birth of a child? 
Monica X: I want to start by telling you that my production studies were 15 years ago in Madrid, in "Loca FM" with the teacher and musician Daniel Soliva of "Moebius Music". I spent two years learning how to use programs such as Cubase, Ableton Live and Logic with which I feel most comfortable working in the studio. Do not get to learn to master with the quality of sound that other producers have, but I can create bases, melodies and lyrics. In the songs of my album I have collaborated with producers from Barcelona and Valencia, but finishing the album cost me more than two years, I thought that in a year I could, but was impossible.
During these last four years I have been taking singing classes more seriously, so I could sing 5 songs from my album "This is X" that will finally be published by my record label "Sex In The House Digital". The tracks that I have written and in which I have included my voice are: "My Name is Monica
X", "Top DJs", "Turn Up The Radio", "Xlove" and "Unpredictable", that is, a half of the disc. The other 5 songs are sung by vocalists who wrote some lyrics like: Chipper "The One" (Operación Triunfo), Amanda Lundstedt (Sweden) "The Edge", Danya Black (UK) "Madness", "Dancing My Dreams Out" (USA) is played by an Afro-American singer who wants to remain anonymous, and finally, Maryna Onyschenko "Jetlag" (Ukraine) what I wrote. I am currently DJing 3 very different musical styles: EDM, House and Remember. The album is focused more on the EDM musical style, that lately has been played on radios around the world.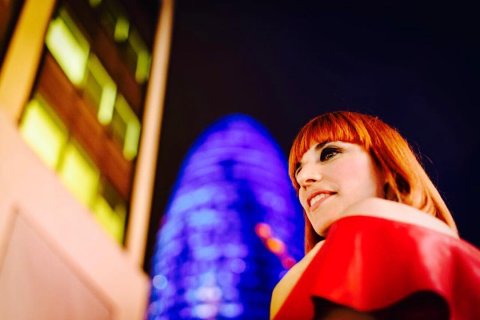 On my channel @djmonicax on YouTube, 4 video clips of my songs have already been published:
"The Edge", "My Name is Monica X", "Top DJs"; and "Jetlag", each one totally different from the other. The recording of the first video clip ("The Edge") was made in the "City of Arts and Sciences" of Valencia on the occasion of the "New Years Eve Festival" where I worked on the building "Agora". The event promoters were the owners of the very crowded "Medusa Festival" in Cullera (Valencia). The second video clip was "Top DJs",  where I mention the best DJs in the world of several different styles, which was filmed in Mallorca in the discotheque "BCM Planet", where all of them played sometimes. The third video clip "My Name is Monica X" was mounted with the images recorded in the "Medusa Festival" of Cullera (Valencia). And, the fourth and last video clip, was made with the making off of the new photo session and my performance in the Port of Valencia in the "Day of the Dona Festival".
You can listen all the songs of my album on Soundcloud: www.soundcloud.com/djmonicax
In my case, I'm still not a mother, I can compare making an album with having children; in the end each song could be considered as another child in the family. So far, I have published 60 songs. In each phase of my career they have been tracks of the styles that I played at that time. If we count the 10 songs of my album, they make a total of 70 songs.
DJANEMAG: About producing, Where do you get your inspiration from? 
Monica X: My inspiration comes mostly from what I listen on the radio and the topics that compose the best DJs in the world. Avicii was a great producer, humble, natural and a very good person; it is a pity that he is no longer with us. He was the only one of the Top DJs who answered me personally in his
Facebook profile; he asked me to send him my productions and he helped me so that they could be published on some of the most famous labels. I had the pleasure of knowing him personally in "Ushuaia" Ibiza, in his last session that was part of the film that he should tell us about his life and the problems he had in health. There is also a producer that I like since a lot of years: Skrillex. I have been lucky to meet him on several times. I produced a Mashup with two songs that I submit to him and he loved it. One of his productions: "Summit" (sung by his girlfriend Ellie Goulding) did not have a very strong beat to be able to mix in a discotheque session and I decided to search a base that fit better and so that people could enjoy that song. The final result can be listed on the following link: https://soundcloud.com/djmonicax/skrillex-vs-danny-leblack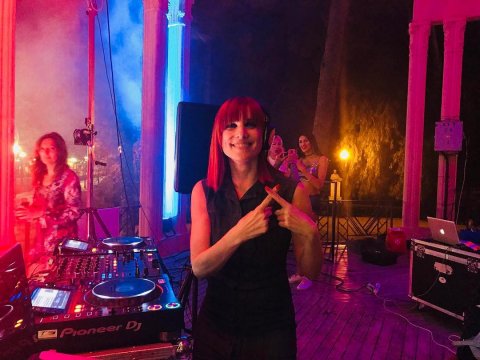 For many years, "Sex In The House" has been the name of my record label, of my party as a promoter and of my radio and podcast program on iTunes. My first record label of Progressive - Trance on vinyl was called "The Brotherhood Recordings" with tracks like: "Charriots Of Fire 2006" (Remix of the original song by Vangelis), "The Spanish Girl On Top", "The Redhead Temptation", "Orient Express" (Remix of the original song by Jean-Michael Jarre),
"Que Rico y Sabroso" (Techno track). Later I decided to create a second House music label in order to publish what I was playing at that time (clarifying that we were already immersed in the digital era). So, I decided to mark the beginning of a new phase in my career with the most fashionable musical genre then. I have published more than 50 references in "Sex In The House" with remixes of booming national producers. You can listen everything on my Soundcloud channel: www.soundcloud.com/djmonicax on Spotify, and if you want to buy a copy of a song you like, are available on Beatport, iTunes and at 75 other online stores. You can find the video clips as well on the YouTube channel of the label here:
www.youtube.com/sithdigital
DJANEMAG: What achievements in DJ career are you most proud of? 
Monica X: First of all, to be one of the first Woman DJs to DJing in Spain and in the world. When I started about 30 years ago, we were not more than 10 female DJs in our country. In the world we were not many either, perhaps some 100, even some countries did not have any DJs yet, because this business was monopolized by men. I am happy to be an inspiration to new generations of women artists worldwide. To have the opportunity to travel around the world presenting my music, is also something that enriches me as a person and to have the privilege of living well of something that you are passionate about, is the best thing that can happen to you in life. I am also conceited of having very good technique to the turntable (before Technics with vinyl and now Pioneer with digital). I learned to play with vinyl. I'm from the Old School because I mix the songs by ear, the machines do nothing for me. In addition, I learned alone, because at that time there were no schools where to learn the profession of DJ, no public and private. We could only learn after years of observing the way other DJs work in the DJ Booth. The music could be bought in record stores at € 6 (1.000 pesetas) or € 9 (1.500 pesetas) per vinyl, so the initial investment was really important; not everyone could afford it. Nowadays, people download music for free from Internet, which is basically illegal, and they work with computers or with the "sync" key of the players with the result that the machines makes the mixing work. In conclusion, 30 years ago we were very few DJs and all very professionals. Now, in a few days anyone is a DJ without having any idea of ​​anything.

DJANEMAG: What are your plans for the future? We are interested in the most ambitious and grand.
Monica X: I'm preparing a tour around Asia. I want to go back to India and China, besides visiting and acting in countries not yet conquered in that area. In addition, I also have several managers working in the United States and Latin America to organize soon a long tour there. I also plan to go back again to Algeria (North Africa). I have been playing in half the World, I have the other half left now. I would love to be able to collaborate with producers from all over the world; to play in festivals with them more often; to publish my songs on labels that are recognized worldwide; to be among the best 10 DJs in the world; and go down in history for having contributed a bit to the world music scene. To have had the opportunity to appear on the highest-rated program in the night prime time in 2001: "Crónicas Marcianas" (Tele 5 TV) for 3 months in a row, was a great boost to our careers as a DJs. Thanks to the whole promotion there was an awakening of the society that, from then on, understood that there were also Woman DJ who knew how to play and triumph in our country. All this gave rise to a new generation of girls who wanted to be like us. To put ourselves in situation, at that time we were not more than 10 girls playing throughout Spain, mainly working around her area of residence; but from that moment many new promises emerged and currently there are thousands of female DJs all over the world.
DJANEMAG: Any final words for our readers.
Monica X: Back in 2007, I made a session in Las Vegas (Nevada, United States) of which I keep a nice memory because Nando Dixkontrol accompanied me and it was a magical adventure that we did together. I was DJing at the discotheque "Studio 54"of the Hotel MGM Grand, whose decoration had been moved from the legendary "Studio 54"in New York, actually Hakkasan Club. There was a very curious anecdote: when I finished DJing: the director of the discotheque told me three things that left me hallucinated. The first was that the whole VIP area was "sold out", that is, all the tables in the reserved room had been sold one month before getting there.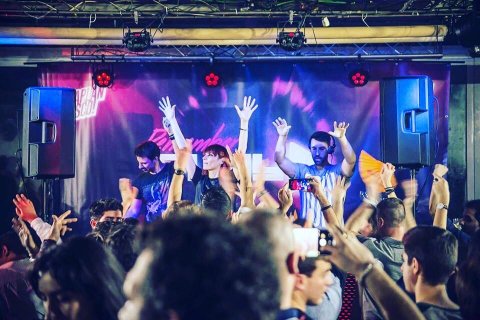 The second was that the week before me, Paul Oakenfold was DJing and did not even fill the half of the discotheque, when I had packed out all night. Taking into account that Paul charged double or triple that I did, my session was very profitable. And the third is that, my House music liked much more than the session of Trance that performed Mr. Oakenfold. All that made me feel proud for all the work I had done to get to that moment and to DJing in the United States with recognition from the public and business world. Just before going to Las Vegas, I was living a month and a half in Shanghai, on the occasion of my great tour of China, with a total of 10 performances throughout the country. And here comes the anecdote: I was the next DJ on the tour of the French drink Hennessy VSOP (a French cognac) that had started in China Paul Oakenfold. I did not know I was going to chase him around the world!.
Dear friends, don't forget to show your love and support and vote for amazing Monica X at top100djanes.com!